ver. 2.0
The Kapta Log in page.
The default page is the "Dashboard".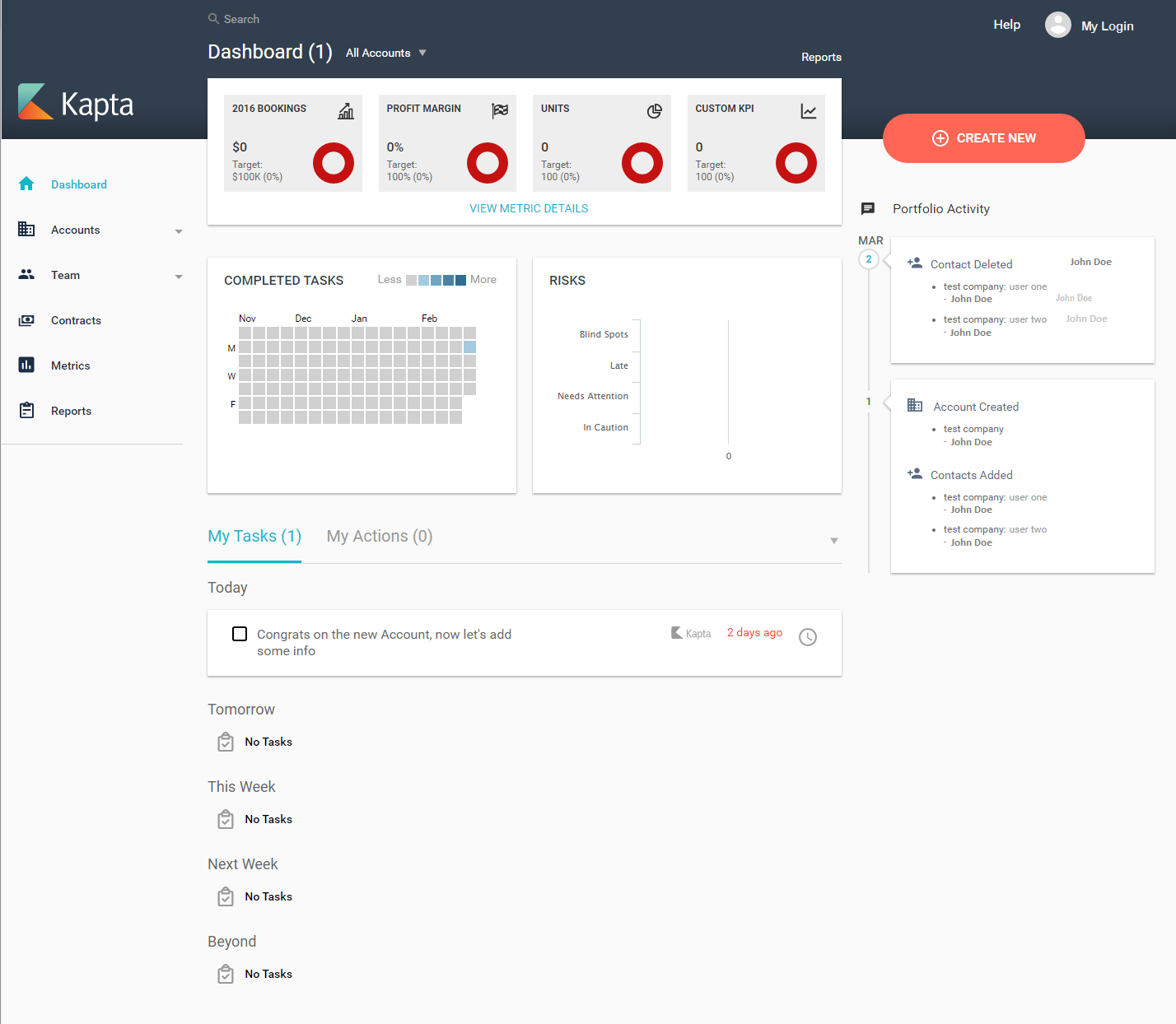 When you first login you will see the overall layout of the application.  There are few areas you should be aware of as you use Kapta.
1.  In the upper right hand corner is the link to help,
2.  Next to it is your name, on click you can update your profile and choose the logoff button.
3.  Just below your profile is the Create New button.  This is where you can create notes, task and account.
4.  Next to the create new button is the "Reports" button.  From here you can see all the reports that are available in the context of your current view.  For example, if you are viewing a specific account it will just show account reports.
5.  The Search bar enables you to look for keywords in Accounts, Contacts and descriptions
6.  Underneath the Search bar is the Account filter. Create filters to view accounts by name, description, products and custom fields. You can save your filters to access in the future.
7.  The Dashboard Roll-up, is a combined metric view of all the accounts.  
8.  The Menu on the left is where you can see your Dashboard, Account List, and Accounts.  If you are an administrator, you can also see the Settings area where you can setup various options in the system.
9.  Completed Tasks is the calendar view of all completed tasks.
10. Risks Chart, is system monitored and shows the risk status of late tasks/actions.
11. Portfolio Activity lets you see what's new in your Portfolio.

12. In My Tasks you can see individual tasks assigned to you.
13. In My Actions you can see the Actions assigned to you. Read on Action Plan to learn more.
14. My Task filters, let's you choose between current, completed, system tasks and My Task default filter.
15. Below is the list of tasks/actions arranged according to the due date.