ver. 2.0
Adding an Account in Kapta is quick and easy!  Simply follow these steps to create a new account.
From any view in Kapta, you can create a new Account by clicking the "Create New" icon and choosing "Account":

To Add An Account
The "Creating Account" page will appear. Start from the "Basic" tab.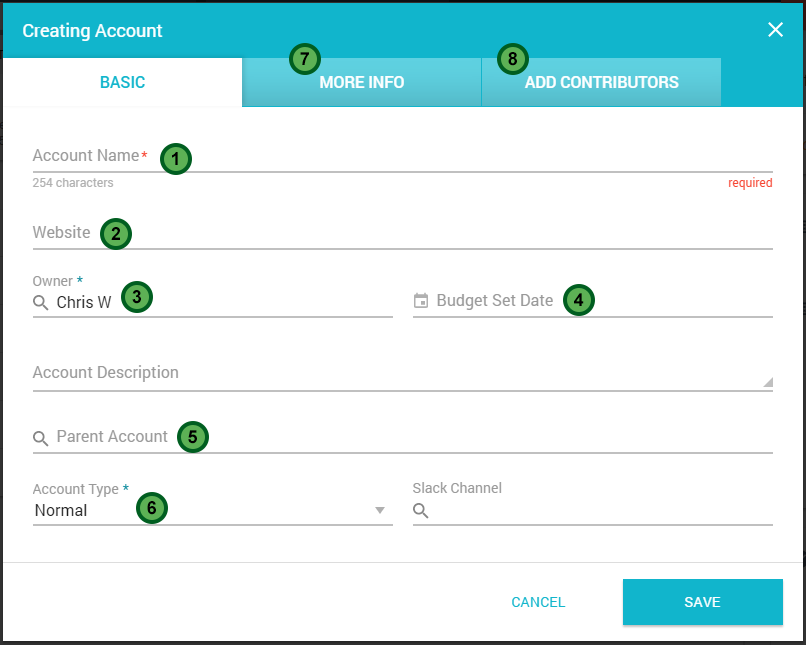 Below is a brief description of each field:
1.  Account Name - the name of your client company
2.  Website - website of the client company (this will also look for a company logo if you have account enrichment turned on)
3.  Owner - Account Manager or the like assigned to the account
4.  Budget Set Date - start date of the contract, agreement or any document indicating commencement of profit/income
5.  Parent Account - if the account belongs to a bigger account, or is a sub-account
6.  Account Type – See below for examples and definitions of use
Normal

– standard business rules apply, this can be defined internally by your company

Strategic

– special partnerships or business rules apply, this can be defined internally by your company

Archived

– label for accounts that are retired without necessarily deleting from the system

Flagged

 – typically used in custom account filters  
* The Account Type can be changed at anytime.
7. More Info - This will appear if you have custom fields defined.  This is where you can update any of those fields as configured by your administrator.
8.  "Add Contributors" tab - you can add other people within your company, aside from the account owner, to view and edit the account (provided that he/she is entered as a Kapta user)

Once done, click "Save".
Click here for instruction to edit the account type once the account has been added