The Dashboard gives you an in-depth look at your company's progress. You can find the Dashboard by clicking the Home link in the header menu, then choosing the Dashboard tab.
Organize Your Goals
The Dashboard lets you organize your progress in several ways.
You can group your data either by Objective (then Team), or by Team collectively.
You can also look at current status, or compare it to previous times (7, 14, 21, 30, 90 days ago) to see how much progress you have (and haven't) made.
Diving into the Dashboard
Once you've organized your Dashboard the way you'd like it, you can dive deeper by clicking into the progress report or by clicking into the color (status) bar
See what's changed in the last week by clicking into the highlighted portion of the image below:
This will show you everything that has been changed on all the Goals belonging to this objective and team:
See more detail about the fifteen (15) goals by clicking on the color bar.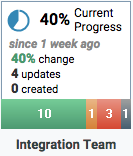 Note: Status and progress changes are reflected on the dashboard in real-time.